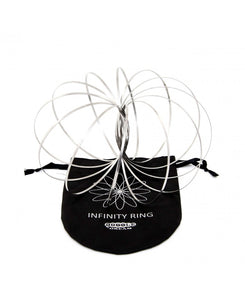 The Infinity Ring by Juggle Dream is a versatile flow prop that can be used on its own or in combination with other props such as staffs, contact balls, or collapsible hoops for unique and dynamic performances.
The Infinity Ring creates a mesmerising illusion as it rolls from limb to limb, making it a great addition to any flow artist's repertoire.
It can also be passed between friends, adding an element of playfulness and social interaction to the performance.
The Infinity Ring is designed to be lightweight and easy to handle, allowing for a wide range of movements and tricks.
Overall, it is a fun and innovative prop that offers endless possibilities for creative expression.