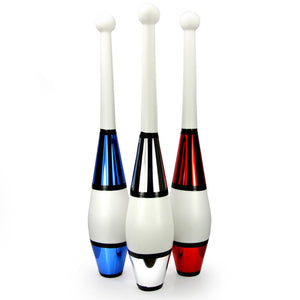 Sold as a set of three: one red, one blue, one silver

The Juggle Dream Solo decorated one-piece club is a great budget option for anyone looking to start club juggling.
Constructed from a single piece of injection-moulded high-impact plastic and decorated with metallic Euro-style decorations, these clubs are great value, really look the part and juggle well for a one-piece club.
Their round handle knobs also makes them suitable for club swinging.