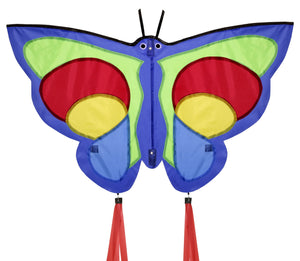 This colourful butterfly kite named Betty comes ready to fly!
This children's kite is a real eye-catcher, especially because of the long, colourful kite tails!
The kite tails are attached to the kite with Velcro and can be easily removed if needed.
However, they provide more stability during flight, so we advise that you leave them in place.
This children's single-line kite conquers the air even with little wind and will fly from 1Bft.
The handling is super-easy and perfect for small pilots from three years.
The little colourful butterfly measures a wingspan of 92 cm and is 55 cm high.
As a result, it does not develop any great tensile forces, which is particularly advantageous for smaller kids.
Leashed on a 40m long polyester cord. The practical carrying bag offers enough space to store everything safely after the flight. No additional accessories are needed!